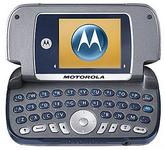 Motorola has done a great job of placing its products in the urban music videos. Whether it was its two-way pager, its cellphones or even the lame-ass PDA phones, the hip-hoppers love their products. I think the next big product to make it big will be the new messaging phone, A630. It has a hit written all over it, and frankly Moto needs one.
One of the great advantages of being a fully-subsidized writer for a mainstream business publication is that you get lots of toys to play with. Thank god for that, otherwise I would be spending half my salary on gizmos. The other half goes to good things in life – booze, smokes, food, friends and of course family. I get to play with a lot of new cell phones, and all sorts of stuff. (Though I always go back to my puny Samsung e105 and IPod and PowerBook!)

Anyway my friends at Moto's PR agency sent me the brand new A630. And 45 minutes after using the phone I am ready to declare it a winner. I guess what really impressed me the most was how much power they packed in this sucker which is smaller (and as thick) as a Baby Ruth chocolate bar. Its got pretty much everything you want from a phone, plus more.
I think the killer feature of this phone is its messaging capabilities. I set-up my dot-MAC IMAP account within 60 seconds on a keyboard that is more spacious than Treo, easier to use than BlackBerry and well as comfortable as the Hip-Top. POP3 mail was equally easy to set-up. Add to it the MMS and SMS capabilities, I can promise you that you will never need your laptop again, at least on a short day trips. The four way navigation pad is brilliant and works like a charm. It is easy to do shift, ALT and other major word processing tasks quite easily. With the right client, it could become a blogger's delight
Checking email on a creakingly slow Cingular GPRS network is a painful process, I must add, but still it is small. Smaller than a miniPOD. The menu for the messaging part of the phone (which flips open) is beautiful, simple and easy to use, though I would have like a bigger screen than the current one. Screen infact is the only quibble I have with the handset.
Okay now to the gaming features – the Java powered phone has good gaming features, however in my test Rivet game was not performing too well, and the screen was all messed up. I think this is a very early unit and one should expect such bugs. I have unit #12 which means not many people have it. I hope Motorola is paying attention.
Now lets turn to the phone – I sent an Mp3 file to the phone using bluetooth connection and set it as a ringtone. (Nice!) The basic phone is pretty solid, speakers and microphone are good (not great) but I found the number pad a bit tiny and different to get used to. Camera – well lets not trash it in public shall we! I like the easy access camera button on the hinge side of the phone.
The most important question is will I spend $300 on the phone? Probably not, because as I said earlier, this is great for the hip-hop set, and young-uns. I am too old to carry this phone. Now if I was 15 years younger, you bet your life I would use this as a phone-plus-messaging device. On a scale of one-to-10, I give this 7.5 points.